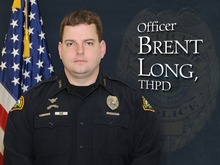 Dozens of police officers and supporters are in the midst of a 13-day bicycle ride around the Hoosier state to raise money for families of officers who died in the line of duty.
The riders began the 10th annual Cops Cycling for Survivors bicycle trip after opening ceremonies at the Law Enforcement/Firefighter memorial near the Statehouse in downtown Indianapolis.
The 1,000 mile journey headed east to Richmond from Indianapolis and will end in Indianapolis July 21.
This year's ride is dedicated to Terre Haute Officer Brent Long, who was fatally shot last July as he and other officers tried to arrest a wanted man. Long is survived by his wife and two children.