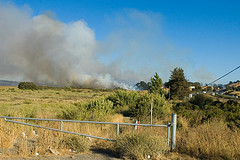 The Indiana State Fire Marshall made a stop in Terre Haute recently and warned area residents that even a small cigarette butt discarded from a window could start a grass fire.
The Terre Haute Fire Department has been called to three ot four grass fires per day for the past several days and there are a variety of reasons for the cause. Greeson says things now are as dry as they were in 1988 when he served as an Indianapolis firefighter. The drought that year resulted in water restrictions.
Greeson was in town to tour the Terre Haute Fire Departments new fire training facility at 2465 N. Brown Avenue.