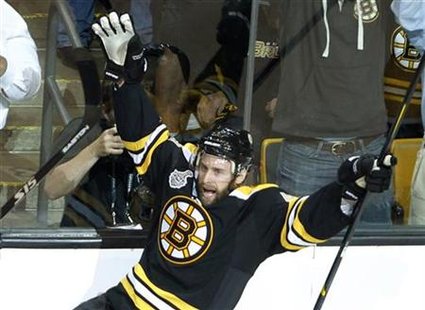 (Reuters) - Rich Peverley has signed a three-year contract extension that will keep the center with the Boston Bruins through the 2014-15 National Hockey League season, the team said on Tuesday.
Financial terms of the deal were not disclosed.
"I like his speed and I like his grit," Bruins General Manager Peter Chiarelli told reporters. "I like the way his speed backs up the (defense), and I think he's made us a faster team."
Peverley, acquired from the Atlanta Thrashers in February, had four goals and 12 points during Boston's run to the Stanley Cup.
The 29-year-old leads the team in goals this season with two after three games.
(Reporting by Gene Cherry in Raleigh, North Carolina; Editing by Frank Pingue)