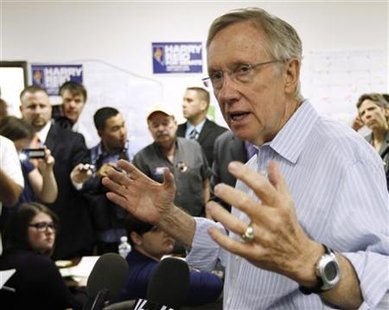 WASHINGTON (Reuters) - The United States is on the verge of announcing a "substantial" drawdown of American troops from Afghanistan, Senate Majority Leader Harry Reid said on Friday.
"There's going to be a drawdown. I am confident that it will be one that's substantial. I certainly hope so," the leading Senate Democrat said during an interview with PBS Newshour.
There currently are about 100,000 U.S. troops fighting in Afghanistan, up from about 34,000 when President Barack Obama, a Democrat, took office in 2009.
Meanwhile, House of Representatives Speaker John Boehner, the top Republican in Congress, continued to criticize Obama's handling of U.S. air strikes against Libyan leader Muammar Gaddafi.
"He has failed to communicate to the American people why continuing this mission is critical to our national security," Boehner said in a statement.
Boehner also complained that the White House had decided to "conceal" whether the Justice Department's Office of Legal Counsel backed Obama's legal basis for military operations against Libya.
Boehner said on Thursday that Congress could cut funding for U.S. military involvement in Libya, ratcheting up tension between lawmakers and the White House over the NATO-led air war.
Reid, in the PBS interview, defended Obama's military activities against Libya, which were undertaken without approval from the U.S. Congress.
He said the 1973 U.S. War Powers Resolution, which sets out the powers of the president and Congress on U.S. military action, "has no application" to operations under way against Libyan leader Muammar Gaddafi, noting no U.S. combat troops were committed there.
Besides, Reid added, "This thing's going to be over before you know it anyway."
Republicans in the House of Representatives have threatened to cut funding for U.S. military operations in Libya because Obama did not get lawmakers' consent.
An anti-war Democrat, Representative Dennis Kucinich, on Friday said he would try to halt U.S. funds for the "unauthorized war in Libya" with an amendment to a defense spending bill expected on the House floor next week.
On Afghanistan, Reid noted that the American public suffered "war fatigue" from combat there that has been going on for nearly 10 years.
Reid, who met this week with General David Petraeus, the U.S. commander in Afghanistan, said he thought the administration could announce the troop drawdown the week after next. But he added that he had "no inside information."
The war in Afghanistan against the Taliban insurgency is costing U.S. taxpayers more than $110 billion a year.
(Reporting by Richard Cowan; Editing by Eric Walsh)