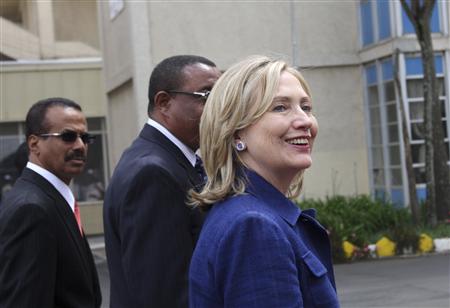 ADDIS ABABA (Reuters) - U.S. Secretary of State Hillary Clinton cut short her trip to Africa on Monday over fears an ash cloud from an erupting volcano in Eritrea could hamper her departure from neighboring Ethiopia, officials said.
U.S. officials said they had been told Ethiopia's aviation authorities were considering shutting down Addis Ababa's main international airport later in the evening as the ash cloud headed toward the capital.
"It's an ash cloud situation," one official told reporters traveling with Clinton.
Clinton was expected to fly out soon.
Charts on the website of the France-based Volcanic Ash Advisory Center (VAAC) showed a long-dormant volcano erupting in Eritrea, spewing an ash cloud 13.5 km high.
After addressing the 53-member African Union earlier on Monday, Clinton met with Ethiopian Prime Minister Meles Zenawi but canceled a scheduled media briefing that was supposed to follow.
She then hastily met with advisors to Sudanese President Omar Hassan al-Bashir and with Salva Kiir, president of Sudan's soon-to-be independent South.
The two sides have yet to agree on sensitive issues such as where to draw the common border and how to share oil revenues, leaving the potential for further conflict as the South prepares for formal independence on July 9.
Clinton had been due to return to the United States on Tuesday afternoon.
(Reporting by Andrew Quinn; Editing by Richard Lough and Andrew Heavens)