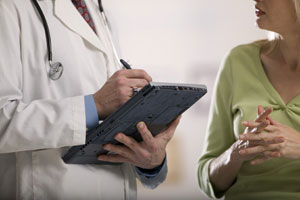 MADISON, Wis. (WTAQ) - Wisconsin's financially-troubled Medicaid budget could get some big relief under the federal health reform law.
The state's new health secretary, Dennis Smith, told the U.S. House Budget Committee last week that the Democratic health package would cost the state $433 million. But Smith then mentioned other parts of the law, which according to one analyst could net an extra billion dollars in federal payments to Wisconsin.
Jon Peacock of the Wisconsin Council on Children and Families says it could mean a net saving to the state of well over a half-billion dollars. But they wouldn't be realized until 2014, after the next 2 year state budget which has a $3 billion deficit.
A large number of low-income families now on BadgerCare Plus would get federally-funded credits to buy private insurance. And childless adults on the BadgerCare Plus Core program would have their care funded totally by the federal government for at least a few years, when it drops to 90 percent.
The state now picks up 38 percent of both BadgerCare programs. And reports indicate that states like Wisconsin – which have a smaller percentage of uninsured residents – would save money under the federal health package while states with more uninsured would pay more.