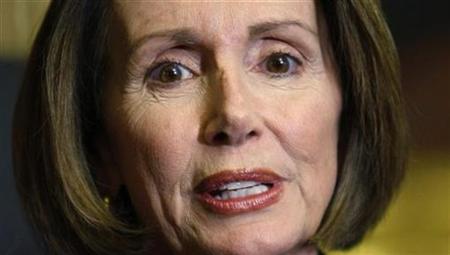 By Thomas Ferraro
WASHINGTON (Reuters) - It is up to President Barack Obama to convince wary Democrats in the U.S. House of Representatives to support his escalation of the Afghanistan war, House Speaker Nancy Pelosi said on Wednesday.
Pelosi also said many House Democrats "are eager to have a vote soon on Afghanistan," and may get it as early as next month on a resolution to end the conflict.
With Democrats divided and most Republicans backing the war, there seems no chance the resolution will be approved.
But it is certain to focus attention on the 8-year-old war, and Obama's recently announced plans to send in an additional 30,000 U.S. troops.
Pelosi declined to say how she would vote on the resolution by Democratic Representative Dennis Kucinich. He has 12 co-sponsors in the 435-member House.
"War votes are votes of conscience," Pelosi told reporters on Capitol Hill.
Congress is expected to approve funding for the troop increase, which the Pentagon has estimated would cost between $30 billion to $35 billion.
Representative John Murtha, chairman of the House Appropriations subcommittee on defense, has said he expected most of the chamber's 258 Democrats to oppose funding. There is strong support among the 177 House Republicans.
Pelosi, who has asked the administration for a briefing of members on the surge, said, "The president is going to have to make his case."
"What I've told members is to give the president room, to listen to what he has to say," Pelosi said.
Republican Senator John McCain, who has opposed Obama on a number of fronts since losing the presidential election to him last year, has vowed to help Obama on the troop buildup.
"I will work to get this policy the votes, the resources and the time it needs to work," McCain said in a speech in Washington on Tuesday.
Democrats won control of Congress in 2006 with the help of their largely anti-war liberal base, which lined up against Republican President George W. Bush's Iraq war.
Last June, five months after Obama took office, Pelosi asked fellow House Democrats to support a spending measure for the Iraq and Afghanistan wars.
Pelosi recalled she told colleagues: "We have to do this for the new president. Then he will come up with a plan and then it's up to him to ask you for your support."
(Editing by Peter Cooney)